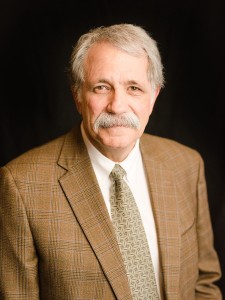 Dr. Patzkowsky Honored With Distinguished Service Award Enid's own, Gary Patzkowsky, D.O. was honored with the 2017 Outstanding & Distinguished Service Award by the Oklahoma Osteopathic Association.  He was presented with the honor by Enid physician and former OOA President, Dr. Mike Ogle at the OOA's Presidential Banquet held Saturday. Dr. Patzkowsky was born in Oklahoma City and raised just north of the Oklahoma border in Kiowa, Kansas. His father was a family physician and preceptor for medical students. It was in this rural community and early in life that
Dr. Patzkowsky developed a profound interest in medicine and medical education. Following high school graduation he attended the University of Kansas where he was active in leadership roles. He received his bachelor's degree in political science, played the bass guitar, and was vice president of the graduating class of 1970. While attending KU he met Marcia, his future wife.  The couple will celebrate their 46 the anniversary this year.
Dr. Patzkowsky earned his doctor of osteopathic medicine degree at Kansas City College of Osteopathic Medicine followed by a rotating internship, as chief intern, at Osteopathic hospital in Tulsa. He matriculated to Texas Tech University completing a residency in family medicine, as chief resident. He was offered a full time faculty position and became an Assistant Professor of Family Medicine. Dr. Patzkowsky also served as the Medical Director of the Panhandle Rural Health Corporation in Amarillo, Texas. While in Amarillo, Texas he and his wife were blessed with a son. He practiced in rural Kansas for a year before returning to his birth state of Oklahoma – landing in Enid –  for a 35-year career. Shortly after returning to Oklahoma he and his wife celebrated the birth of a daughter.
Dr. Patzkowsky's Enid career ranged from solo family practice, occupational medicine, minor emergency care and instructing and mentoring medical students. He has also been devoted to community service. Dr. Patzkowsky has coached little league and junior league sports and has provided sports physicals for the public school system for more than 25 years. He has also donated his time and talent to the Enid Community Clinic, the NW Oklahoma Blood Institute the NW Oklahoma Osteopathic Foundation and various other community organizations.
When presenting the award,  Dr. Ogle described Dr. Patzkowsky as a personal friend and mentor who values family. "Dr. Patzkowsky  is a loving father  who always finds time for his children. Always present at sports games, dance recitals and graduations. His passion for medicine and caring for others is also evident in his children, who were inspired by his actions and leadership and sought professions in the medical field."  Dr. Ogle said.   Dr. Patzkowsky's son, John, and wife,
Sneha, are anesthesiologists in Kansas City and his daughter, Kristin, is a second year Physician Assistant student at OU Health Science Center. Dr. Patzkowsky's award was presented April 29 th in Norman, OK, as part of the 117 the annual Oklahoma Osteopathic Association Convention.